Using the cLAN devices allows for remote monitoring and control of sensors, transducers, and intelligent devices from your own control system or through our Web Server for telemetry applications
PRODUCT FEATURES
Programmable
By loading a script text, the device can perform special functions.
It can also be used without programming.
Register Data
It allows nonvolatile record of acquired data.
Data Base
The information gained in the field, is loaded into a database, which can be accessed by the user.
This allows you to publish information on a Web page
Visualization
The information stored in the database can be presented on a Server for Telemetry whose access is through a Web page.
It may also be published by the user in its own website.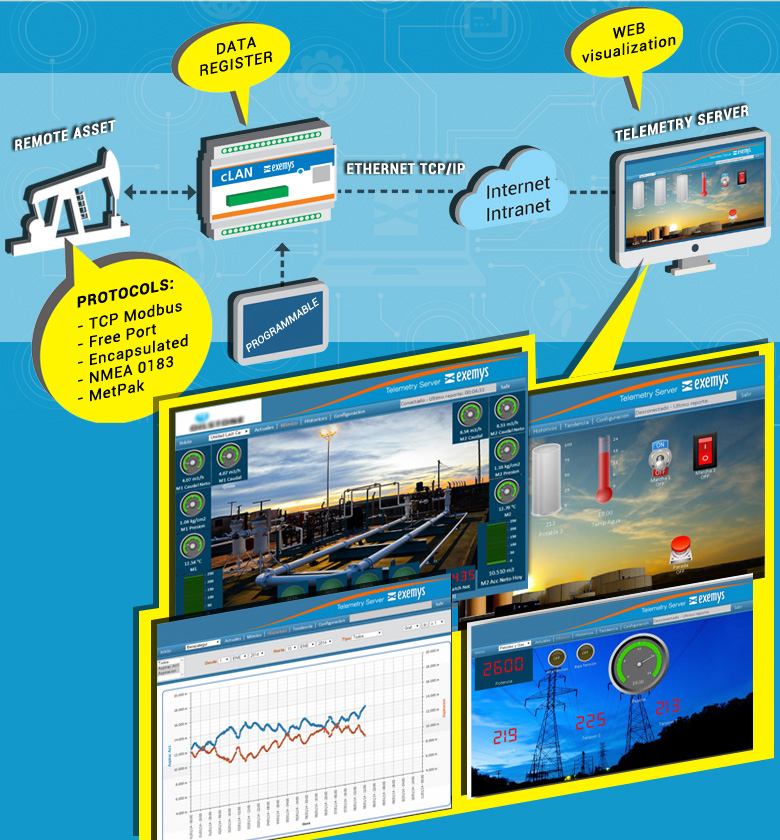 cLAN Communication Protocols
The clan communicates using different protocols, either by their serial RS232 / 485 or your Ethernet TCP / IP
- Modbus Protocol
It behaves like a slave Modbus TCP to Modbus Serial, which can communicate with other devices Modbus Master (Software SCADA for example)
- Encapsulate serial protocols
It behaves like a serial to Ethernet converter, serial protocols may be encapsulated in a frame of TCP / IP packets
- Free Port to develop proprietary protocols
The user can program their own proprietary protocol, using the programming language scripts using text.
- Other protocols
The cLAN also has the NMEA 0183 protocol NMEA and MetPak de Gil Instruments ® protocol.
GENERAL FEATURES
16 Digital Inputs and 8 Digital Outputs
8 Anolog Inputs 4-20mA, 0-1V y 0-10V
Pulse count inputs: Fmax=1KHz, Pulse = 0.5ms min
2 Serial Port RS232 or RS485
1 Ethernet Port TCP/IP 10/100Mbit
Satellite module antenna (optional)
Compatible with Web Server for Telemetry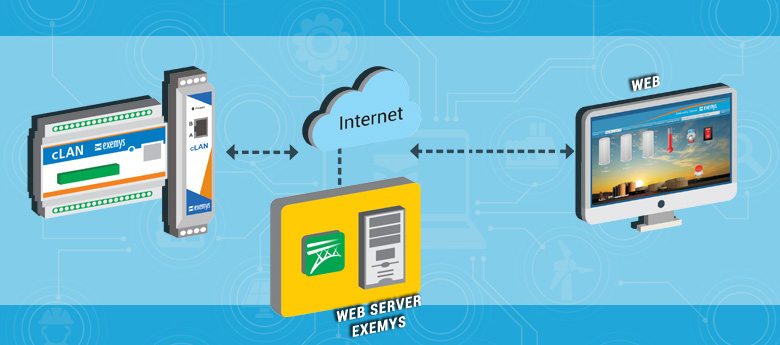 INTERNAL LOGIC PROGRAMMING
Math Operations
Binary Logic Operations
Date and Time Operations
Working with Timers
Read Analog variables
Records of Variables
Digital I/O Read/Write
Interpretation of data from the serial port
Sending serial data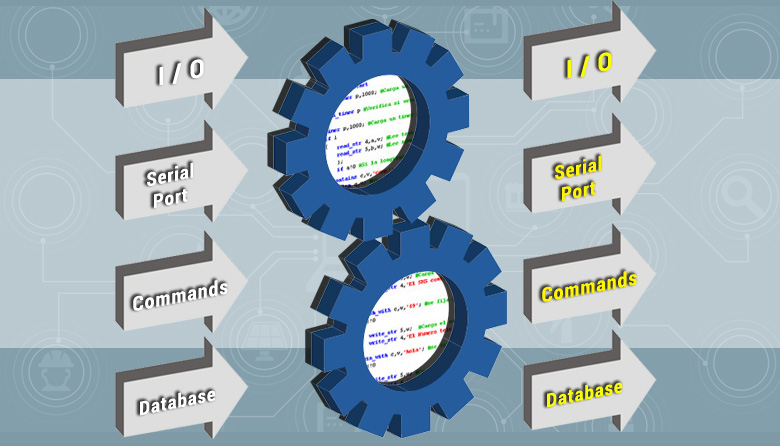 Examples of Scripts:
Calculation of Flow:
Calculate the flow rate by measuring the differential pressure.
Alternating 2 pumps:
Alternate the use of 2 pumps when using one timer.
Detecting faults in dosing:
Stops the dispenser by the digital output based on the measurement of two temperatures and a digital signal.
On / Off Remote:
Through an SMS message or pressing a button on the telemetry website server, GRD outputs can be activated into a system timer to be turned on or off.
On / Off Automatic:
Through a set timer, the devices can turn on or off a system.
Examples of Application
Oil and Gas:

Gas Compressors Telemetry

Oil and Gas:

Telemetry Oil and Gas Wells

Hydorology:

Telemetry Food Levels

Water:

Water Pressure Telemetry