T24-HR Wireless Telemetry Roaming Handheld Display

► Battery Powered and compact
► Wakes and reads unlimited numbers of acquisition modules
► Worldwide licence exempt 2.4 GHz radio
► 120 metre (400 feet) range maximum
► Simple configuration via PC using base station with Telemetry Toolkit software
► Environmentally sealed to IP65
► Remote battery check
► Can power off a remote acquisition unit, to preserve system battery life.
The T24-HR is a portable battery-powered roaming handheld which allows the viewing of an unlimited number of acquisition modules. By simply 'roaming' past the acquisitions modules, the handheld will wake each device and display the data tag of the remote acquisition module on the LCD display. With user-friendly T24 toolkit software, the data tags can be set to allow identification of each acquisition device allowing the viewing experience to be tailored to each particular application. The T24-HR is a display that is very simple to operate, with just two buttons; one to power the product on/off, the second to allow viewing of any detected devices that have been detected.
The licence-free 2.4GHz radio signal provides a line-of-sight communication range of 120 metres (400 feet), extendable by the use of a repeater (T24-AR). The use of the latest DSSS radio technology minimises local radio interference and ensures data integrity and security. The wide operating temperature range and the robust technology ensures that the T24-HR it is not susceptible to harsh physical or electrical environments. LCM Systems can supply the T-24 products integrated into various sensors, to form a wireless sensor system. There are several standard products which utilise the T24 range, including the TELSHACK range and RILL ranges.
Back to Top
Specifications ­ - General Radio

Parameter
Min
Typical
Max
Units

Licence

Licence Exempt

Modulation method

MS (QPSK)

Radio type

Transceiver (2 way)

Data rate

250

K bits/sec

Radio Frequency

2.4000

2.4835

GHz

Power

1

mw

Range RAD24i (Integrated antenna)

120 (400)

Metres (feet) *

Range RAD24e (External antenna)

200 (650)

Metres (feet) *

* Maximum range achieved in open field site with T24-SA at a height of 3 metres above ground and T24-HR held at chest height pointing towards the T24-SA.

Approvals

Complies with EMC directive. 2004/108/EC
The Radio Equipment and Telecommunications
Terminal Equipment (R&TTE) Directive, 1999/5/EC.

Family: RAD24

IC:7224A-RAD24
T24-HR ­ Handheld Reader

Electrical
Min
Typical
Max
Units

Power Supply voltage

2.4

3.0

3.6

V dc

Power Supply
Min
Typical
Max
Units

Active

35

40

mA

Low power mode

120

160

uA

Estimated Battery life (using 2Ahr batteries):

Standby mode (Powered off)

1.5

Years

Continuous operation

40

Hours

Use a pair of alkaline AA batteries. Due to the higher voltage requirements of this device NiMh and NiCad batteries are not recommended.

Environmental
Min
Typical
Max
Units

IP rating

IP65

Operating temperature range

-10

+50

C

Storage temperature

-40

+85

C

Humidity

0

95

%RH

Module Transmits & Receives giving:

►

Full error detection and correction

►

Remote and local battery check
Back to Top
All dimensions in millimetres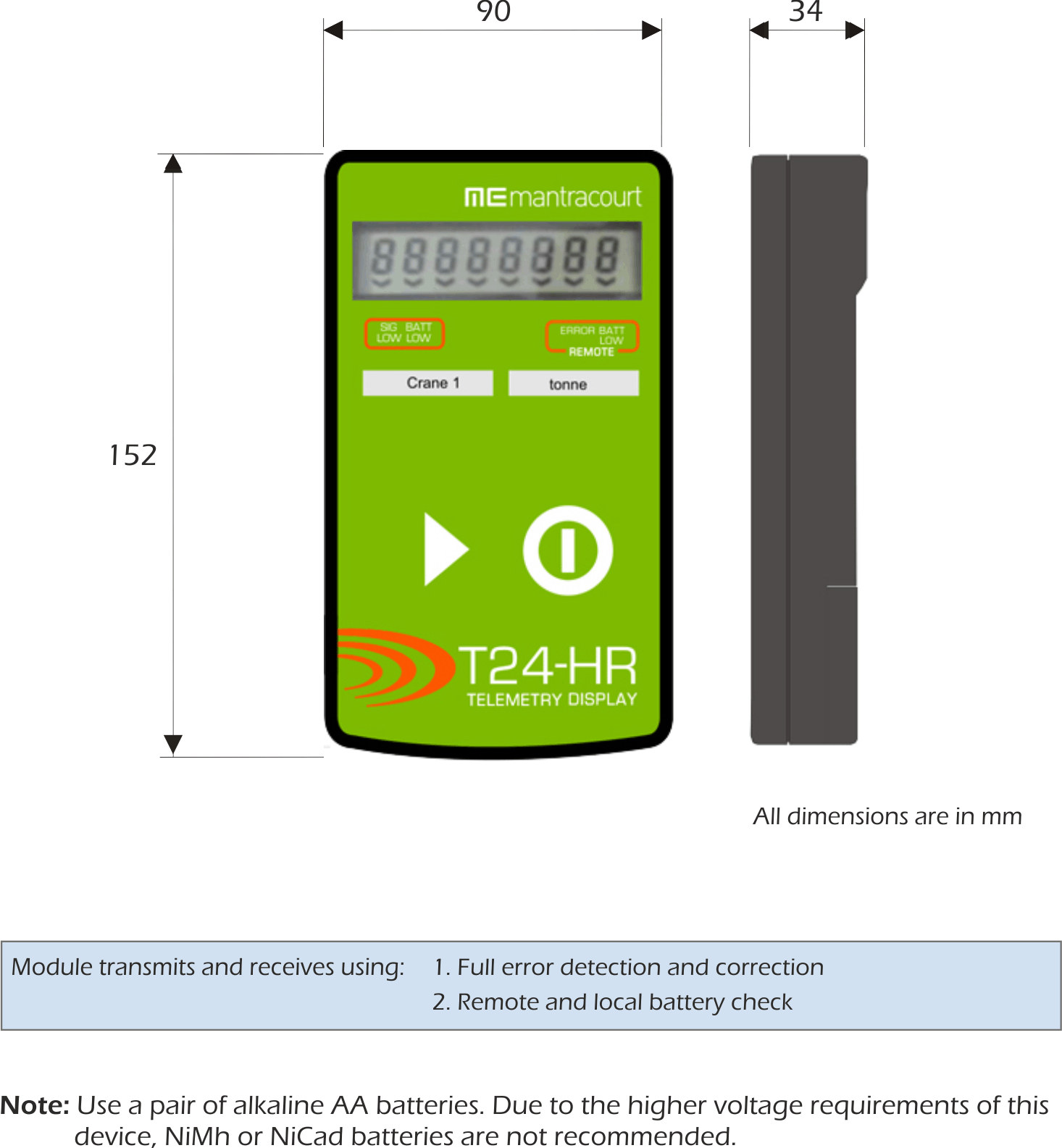 Back to Top
►Click here to download - T24-HR Datasheet
►T24-SA Wireless Telemetry Strain Gauge Acquisition Module
►T24-SO Wireless Telemetry Serial Output Module
►T24-PR1 Wireless Telemetry Printer
The T24-HR is a self contained product, which is designed to operate in conjunction with the rest of the T24 range of wireless telemetry products. LCM Systems can assist with the design and configuration of complete systems, to meet our customers application requirements.
►
Wireless shackle load cells
►
Wireless link load cells
►
Hoist load monitoring
►
Cable tension measurement
►
Mast stay load monitoring