Application 126
MSL Mars Rover Cryogenic Load Cell
Application Summary
FUTEK was commissioned by NASA to develop a cryogenic donut load cell directly operating within Curiosity's drilling arm. This sensor stands responsible to monitor the drill bit's forces as it pierces into the Martian terrain.
Products in Use
NASA/JPL-Space/Flight Qualified Cryogenic Dual-Bridge Donut Load Cell.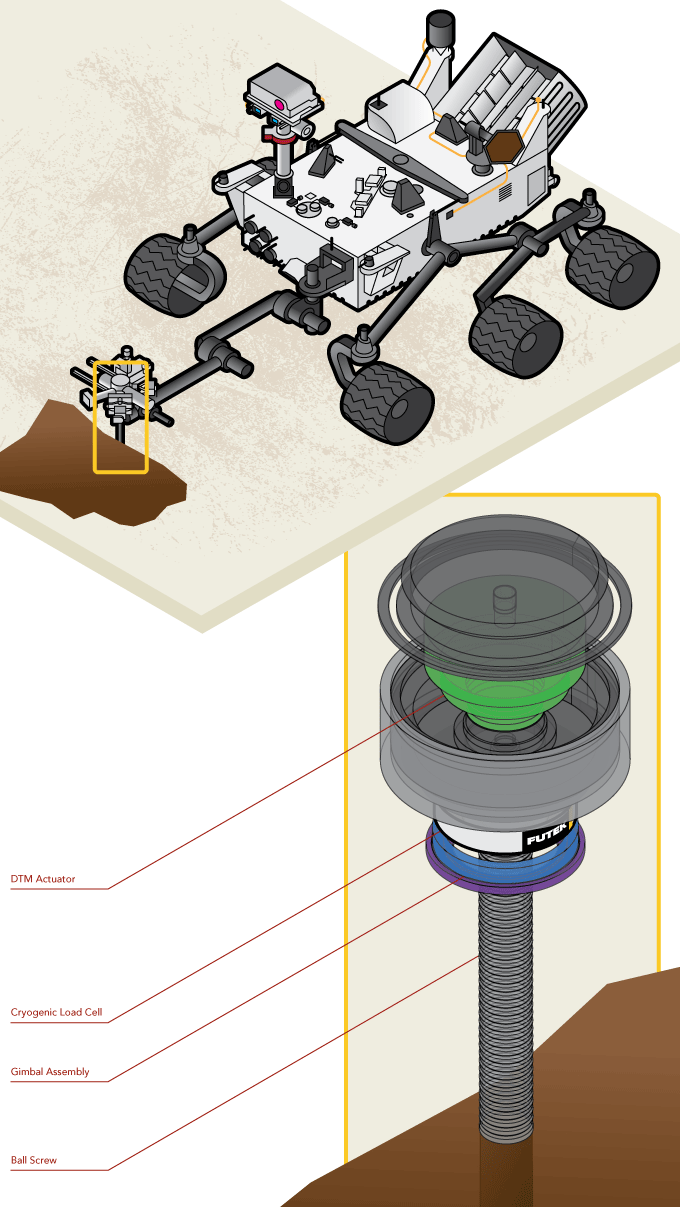 Many applications require customized solutions. Thus, FUTEK knows that when NASA approaches us, a standard off-the-shelf product won't fully fit their bill of requirements. But being that we are in the business of providing solutions, if there's a will there's a way for FUTEK to design and develop the necessary sensor needed for the job. And that's exactly what we did.

For the MSL Mars Rover Curiosity mission, FUTEK was commissioned by NASA JPL to develop a space/flight qualified cryogenic dual-bridge Thru-Hole Load Cell. This specific sensor sits within the drilling mechanism on the rover. It is responsible to measure the forces of the drill bit at a high level of accuracy and resolution that a current controlled motor drive system cannot achieve. The inclusion of a dual-bridge was a necessity to allow redundancy in the system, which reduces risk of the system becoming inoperable in the extreme conditions.

If you have a custom application in need of a sensor solution, please visit our Custom Sensor Solution Page to learn more about FUTEK's capabilities.