Unidrive M Modular (features)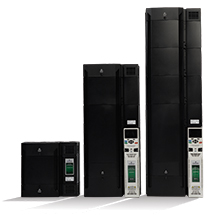 Unidrive M High Power Modular Drives
125 hp – 4,200 hp (90 kW – 2.8 MW)
200 V | 400 V | 575 V | 690 V
Unidrive M's modular drive offering provides a flexible method of building compact, reliable high-power solutions. Paralleled together, Unidrive M can control asynchronous and permanent magnet motors in systems up to 2.8 MW (4,200 hp).
​Minimize downtime for critical operations

Unidrive M high power modules have exceptional build quality based on over 40 years' of drive knowledge, expertise and development

Emerson Automation Centers are situated in all global regions to provide local design consultation and rapid specialist technical support

Every Unidrive M power module has been thoroughly tested in environmental chambers that cycle a wide range of load and thermal conditions

PCBs have conformal coating to further increase resilience to harsh environmental conditions

Trip avoidance features take intelligent action instead of interrupting critical processes

Protection alarms safeguard the wider system

Intelligent variable speed fans ensure operating temperature stays within limits

Wide supply voltage tolerance keeps drive operation smooth in areas where supplies are variable
Create flexible systems easily

The modular approach to building high power systems provides machine builders with flexibility while keeping complexity low

Modules with integrated rectifiers and/or line chokes can be easily paralleled

Separate inverter and rectifier modules (D, RECT..A and RECT..T) can be paralleled into common DC bus and regenerative configurations
Flexible and easy system design

Unidrive M high power modules are designed to fit in standard 600 mm deep x 400 mm wide (23.6 x 15.7 in) cubicles

6,12,18 and 24 pulse input and Active Front End configurations are easy to achieve

Integrated cooling fan power supply means no additional power supplies are required

Output current ratings have been increased to use fewer modules per system

A common control interface ensures a consistent programming method and feature set across the whole Unidrive M range
Make compact, easily maintainable systems

Overall system size and footprint is kept to a minimum

Manageable small and light modules are maintained and replaced rapidly and easily
Unidrive M's modular approach gives customers the opportunity to standardize their solutions in order to keep spares holding to a minimum as different systems can be serviced using one common spare. Large volumes of standard product modules are stocked at local distribution hubs in convenient locations around the world meaning that rapid delivery is always available to all customers.
Upgrade Unidrive SP modular systems painlessly
Migration of Unidrive SP modular systems to Unidrive M is fast and easy:

Parameter porting tools such as Unidrive M Connect and Smartcard are available

SyptPro can recompile SM-Applications programs for SI-Applications, and can connect to existing CTNet networks

Identical width and depth dimensions, along with retrofit kits, mean that Unidrive M modules can easily fit into SP modular locations using existing fittings
Environmental safety and electrical conformance

UL listed

Electromagnetic immunity complies with EN 61800-3 and EN 61000-6-2

Electromagnetic emissions comply with EN 61800-3:

Onboard EMC filter, category C3

Optional external EMC filter, category C2 depending on power rating

Compliance with EN 61000-3-12 with external line reactor
Create high performance solutions

Switching frequencies of up to 16 kHz in systems up to 160 kW (250 hp) and 8 kHz in systems up to 250 kW (400 hp) allow Unidrive M to provide precision torque

Highly accurate thermal model ensures:

High overload capability – 150% Heavy Duty

Impressive low derating requirement in applications that demand high torque at low speeds. Power device temperature is intelligently managed meaning smaller lower priced systems can be specified and product life is extended

Dynamic Active Front End configurations provide:

Precision torque linearity across quadrants

Corrective power factor operation (lagging, unity or leading) for high quality power

Harmonic mitigation