Unidrive M200 AC Drives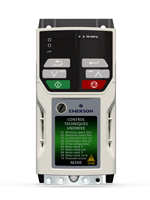 Unidrive M200 AC drive - Flexible machine integration through communications
0.33 hp – 150 hp (0.25 kW – 110 kW) Heavy Duty
0.33 hp – 200 hp (0.25 kW – 132 kW) Normal Duty
115 V | 230 V | 460 V | 575 V | 690 V
Unidrive M200 has been designed for applications that require flexible integration with systems via modern communication networks and fieldbuses or advanced RFC-A open-loop motor control. The M200 provides the most convenient upgrade path for Commander SK users.
Flexible system integration with communications options

M200's SI interface enables integration with a wide range of available industry standard fieldbuses or extended I/O such as SI-Ethernet, SI-EtherCAT, SI-PROFINET V2, SI-PROFIBUS, SI-CANopen and SI-DeviceNet

AI-485 Adaptor option permits connection to RS485 adaptor option permits connection to RS485 networks using Modbus RTU
Improve throughput with advanced open-loop motor control algorithms

Rotor Flux Control (RFC-A) utilizes closed-loop current control to give maximum stability of induction motors at all powers.
Install and configure quickly and easily

Easy-to-use fixed LED keypad

Useful parameter guide located on the front of the drive

Use Unidrive M Connect PC tool or SD card with AI-Backup Adaptor to clone and transfer parameter sets

Din rail mounting is supported below 2 hp (1.5 kW)