DOWNLOADS
Orbit® ACS
Automation and Control System
Solartron Metrology, the world leader in linear measurement, introduces Orbit® ACS , which stands for Automation and Control Systems. The first product is the SI 100, which is a simple one channel stand-alone unit for quick measurement and PLC output. The SI 200 comes with a probe, integral screen, and PLC output, but can also connect to one Orbit® digital probe via T-con for a two channel system. The SI400 will connect to, and power, three additional sensors for a four channel reading. All modules will carry the same accuracy, repeatability, and durability as a standard Orbit® probe.
Orbit® ACS Features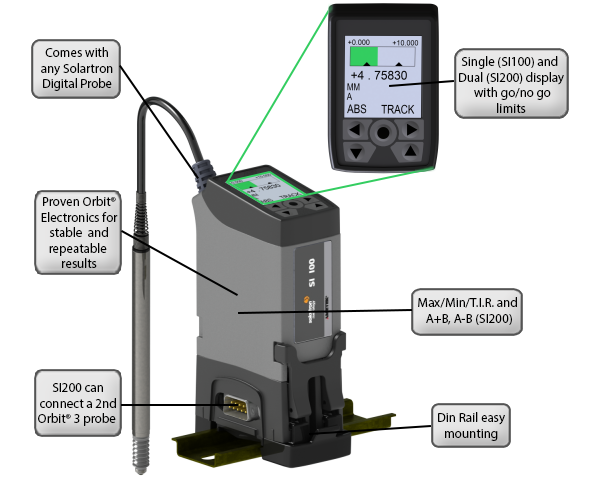 Orbit® ACS Features

What is Orbit

® ACS

Stand alone unit

Full colour display provides analogue and digital reading

Modbus communications or Solartron Serial outputs

Discrete I/O

High Accuracy

Available with large number of Int

egral tranducers

+24 VDC power supply

Din Rail mounting

Mathematical Functions

Orbit® ACS is ideally suited for measurement automation in high

volume manufacturing. The Orbit® ACS system having both a

local display and outputs for PLCs enable them to be used as

automation instrumentation.